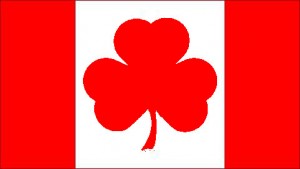 To be honest, I wasn't sure what to expect from Ireland. Of course, I knew there would be beautiful landscapes – mountains, water, sheeps and cows. In the weeks leading up to my trip, everybody kept saying, "the weather sucks, it rains all the time, but you're going to love it!" Being the type who lives for sunny days, I won't lie, I experienced my doubts. I mean, I knew I would think it was beautiful, but would I LOVE it? But, now after my trip, the next time someone asks me about Ireland, that's exactly what I'll tell them. Ireland is a beautiful country with genuinely happy people. They like their food, they like their beer and they know & do both very well.
I spent a week in Dublin – well, in Lucan, which is next to Dublin, but every day I took the bus into the city and did some exploring. The first day I arrived, we went to a Rugby match (Leinster vs. Edinburgh). I had my first pint of Guinness at the game (the 2nd time ever in my life). The game was a very neat experience. I was mesmerized by the integrity and respect of Irish fans. They all shush each other when a player is about to kick the ball. The next day, my wonderful hosts, Alan & Bozenka, took me to the Glendalough Valley in the Wicklow Mountains National Park. We went for a walk through a small part of the beautiful park. I tried to climb up onto a tree branch to take a cool photo, but was unsuccessful due to being somewhat vertically challenged 🙂 We took some gorgeous photos including one of me posing with a map reenacting a scene from PS. I love you., where Hilary Swank is walking through Wicklow Park for "three hours" and has no idea.
During the week, when Alan and Bozenka were at work, I would make my way into the city, map in hand, by bus. I encountered the same friendly bus driver two days in a row, who always shared an interesting fact about Ireland and directed me where I wanted to go.
My first trip was to the Guinness Storehouse. There, I went through the self-guided tour and learned how Guinness beer is produced and distributed around the world. The tour ended with a skyview of Dublin and a pint of Guinness.
The next day, I took a hop on, hop off tour around Dublin city centre. Although I didn't "hop on or off", I got a pretty good indication of the city's landmarks and learned about some of its history.
On his day off, Alan took me to Temple Bar and we went for a walk around the area. This was on Arthur's Day and the city was buzzing early in the day with people starting celebrations that continued into the night. Arthur's Day originated in 2009 to celebrate the 250th anniversary of the Guinness brewing company. There is a series of music events at various pubs throughout the city. In addition to many smaller bands that perform at the pubs, there are also a few bigger performers, but unfortunately you don't know what pub they will play at. Alan and I went to a pub with 300 beers from around the world and did some shopping for souvenirs that day. Later in the evening, Alan, Bozenka and I went to a pub (the only one we could get into where crowds weren't out spilling into the street) and had a pint. I was on a mission to find Mumford & Sons, which is my favourite band. They were rumoured to be performing somewhere, but we didn't know where and unfortunately we didn't come across them.
I also had the incredible luck of being in Dublin for Dubin's rendition of Octoberfest! I had a chance to try some delicious eats and watch some cool performances. This was all happening on Arthur's Day – the energy and excitement was in the air. People were out and about. It was rainy and chilly, but no one cared.
This is what I love about Ireland. Despite the cold weather and the frequent rain, people are happy and the atmosphere is warm and upbeat.
On the weekend, we went to Valentia Island. Here, I saw some of the most spectacular views I've ever seen. We stayed in a beautiful cottage, which lay directly on top of a cliff overlooking mountains, water and a view – so gorgeous and enchanting that a picture doesn't do it justice. This is the beautiful view we'd wake up to every morning and have coffee and chats while admiring it. The only downside was running out of oil and thus hot water. But, taking cold showers in the morning didn't even phase us with such beauty around us.
Driving from our cottage at night to the one little bar that we discovered in town, was a bit creepy. Only because we were literally the only ones there, surrounded by animals of the forest and trees. What a surreal experience. I will be thankful for these memories always. 🙂
When we left Valentia, I only had a day left in Dublin. I spent the last day shopping for a few extra souvenirs and gifts. When Alan and Bozena left me at the airport the next morning, I was very upset to be leaving. Not only did I stay with two wonderful people, who I became very close to, but I was also sad to be leaving Ireland. I will definitely always reflect back on my time spent in Ireland positively and will always carry a piece of it with me. Thanks to my hosts who sent me off with a bunch of stinky cheese, I'm sure I left a trail behind, as well 🙂
Maggie Tu-Tu